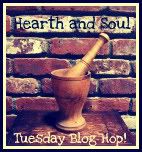 It's the first anniversary of the Hearth and Soul Blog Hop! Although I have not been a host for all that long, I've been participating in the hop almost from the beginning, and it is something I am incredibly passionate about.

Food from the heath to feed your soul. The food of memory, the food of comfort, the food of joy. This is the Hearth and Soul Blog Hop, born of our beliefs that food is not only meant to nourish our bodies, but also our souls. This is what food is all about.
In honour of the first anniversary of the hop, many of my co-hosts and I are hosting giveaways,
so it is well worth taking the time to visit all of us this week
.
Be sure to check out all my fellow co-hosts at the bottom of this post.
As for me, I am giving away an Amazon gift certificate - a $50 gift certificate from Amazon.com if you live in the US, or if the winner is from the UK, a £40 gift certificate from Amazon.co.uk. There are some wonderful cookbooks out there at the moment, including My Father's Daughter by Gwyneth Paltrow and Kitchen by Nigella Lawson, both of which feature food from the hearth to feed your soul. But if you win, you can choose any book(s) you want!
To enter, please email me at
april@21stcenturyhousewife.com
with the words Hearth and Soul Blog Hop in the subject line and your name and the country you live in in the body of the email. You can also enter by commenting on this post. Please also tell me what number your recipe is in the linky so I can find it easily, and feature it when I announce the winner this Friday at 9am EST (2pm GMT). Entries will be numbered in order of receipt, and the winner will be chosen using a random number generator.
If you wish to enter more than once,
you can follow me on Facebook
or
Twitter
for additional entries. Just email me or comment and let me know - or if you already follow, please mention it in an email or comment and I will give you extra entries.
To read our full mission statement, and the rules for linking, please
click here
.
It is very important that you please remember to link to your article only and not directly to your blog, and that you link back to one of the co-hosts somewhere in your actual post. You must link back to one of the Hearth and Soul hosts to be eligible for my giveaway.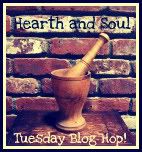 This is the code for the Hearth and Soul Blog Hop badge. Please copy and paste it into the bottom of your blog post. Just highlight the HTML code and right click to copy it. You can then paste it into your blog posts, or put it in your sidebar. Or you can choose to simply place a text link back to the Hearth and Soul Blog Hop at one of the host sites. Come on, share with us what you've got cooking in your kitchen!
Thank you from all of us on The
Hearth and Soul Blog Hop Team!
Some Hearth and Soul Anniversary Giveaway Links:
---

This linky list is now closed.